Dura-Bar Machinability
Overview
By using Dura-Bar, you will be able to increase your profit margins (PDF) by machining more parts per hour. You will decrease your cycle time and increase your productivity and machine capacity. The result is lower total cost per part.
Productivity
Dura-Bar's superior machinability increases machining speeds by a minimum of 30%, and often as much as 50%. Increased feed rates are due to a reduction on spindle load and less cutting force is required as compared to steel. Improved tool life results from consistent material structure and graphite content. It is also easier to achieve and maintain surface finishes due to Dura-Bar's nodular graphite structure. Improved productivity offers the best opportunity to reduce total cost.
Chip control
Free machining properties are inherent to Dura-Bar. No complex chip breaker design is required because graphite is a natural chip breaker. Easy evacuation of the work area. No lead means no costly chip disposal.
Zero Defect Guarantee
Dura-Bar is committed to quality and is pleased to offer its Zero Defect Guarantee against foundry defects. This guarantee provides for the replacement of defective material and reimbursement of your cost of machining.
For specific recommendations to get the most out of Dura-Bar, including machinability ratings, speed and feed rates, typical depths of cut and tooling, download our Machining Guide.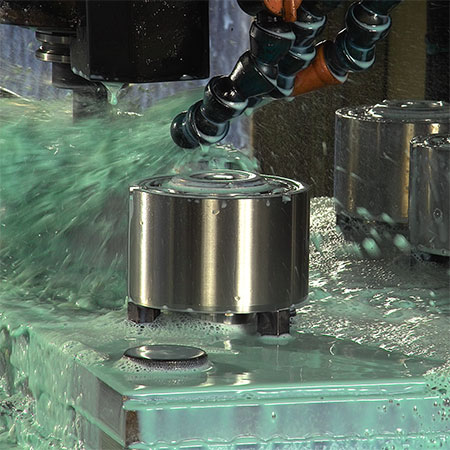 ---
Applications Made From Dura-Bar

The conversion to Dura-Bar continuous cast iron from 8620 steel made a dramatic difference for the customer, seeing improvement in cost, consistent quality, machinability and availability.

Dura-Bar improved machinability by reducing cycle times by 20 percent, extending tool life and reducing scrap. That translated into a direct cost savings over the original gray iron sand castings in the production of the final part.

Dura-Bar provided a more machinable material with the needed pressure retention of the application originally manufactured in 1018 steel. The machining cycle time was cut in half and time changing inserts was also reduced.