Technical Team
Dura-Bar's technical team has nearly a century of combined expertise in the metallurgy and machining of Dura-Bar and other metals.
Our metallurgists will work with you to determine what chemical and mechanical requirements are needed for your application. We will identify the best grade of Dura-Bar to meet those requirements, and even exceed them when that would be relevant for performance or cost saving purposes.
Dura-Bar's machining specialist will provide personalized assistance by:
Visiting your facility, at no cost
Evaluating current machining methods
Recommending proven machining practices to reduce cycle times and improve productivity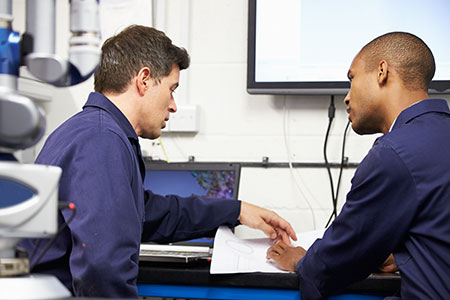 Specifically, we can work with manufacturing and engineering personnel to clarify the important differences between machining Dura-Bar and other materials, and make detailed recommendations regarding tooling selection, speed and feed rates, and the proper coolant to use.
We'll be there to help implement new machining procedures--including training operators in machine tool programming techniques, fixturing methods, basic cost analysis, and working toward continuous improvement, as well as address any questions or concerns that might arise.
Some issues we have addressed for Dura-Bar users to cut costs by re-evaluating their machining practices include:
Slow machining speeds
Unfamiliarity with continuous cast iron
Conversions from steel
Call Dura-Bar at 800-227-6455 to discuss your application and how we can lower your total cost. Or if you prefer, help us jump start your project by sharing some information, and we will send you our literature kit.