Dura-Bar XL
Dura-Bar XL is a line of permanent mold round ingots which expands the Dura-Bar rounds size range to 26" diameter. It is available in ductile iron grades 65-45-12 and 80-55-06 and gray iron grade G2. All grades conform to ASTM specifications.
Dura-Bar XL is proof-turned to provide an excellent machining surface and gives an added confidence in the quality of the material. Round bars are turned to the size listed +0.080" / -0.000" and are to finish to 0.250" below the size listed. (Example: 21.00" will be turned to 21.000" - 21.080" diameter and will finish at 20.750" diameter) Bars will finish to the length listed. Actual length will be +2.000" / -0.000".
| Nominal Diameter | Length | Lb/Ft |
| --- | --- | --- |
| 21.00" | 42.00" | 1,089 |
| 22.00" | 38.00" | 1,195 |
| 23.00" | 34.00" | 1,305 |
| 24.00" | 33.00" | 1,421 |
| 25.00" | 30.00" | 1,541 |
| 26.00" | 28.00" | 1,667 |
Dura-Bar XL is better than a traditional sand casting for two big reasons:
First, Dura-Bar XL ingot is a better quality material.
There is no sand involved in the process to cause foundry defect issues and deteriorate tool life.
The pattern is predictable from pour to pour increasing the performance of the casting process and the quality of the bar.
The melt materials are the same high quality material used for all Dura-Bar products.
The ingot is proof turned to provide an excellent machining surface and give an additional level of comfort about the quality of the material.
Second, Dura-Bar XL ingot is more economical.
There is no pattern charge, period.
Material is available from stock, at a local Dura-Bar distributor.
There are no long waits for a custom quotation.
No waste or safety stock - purchase just the length you need.
Less machining because the material is proof turned.
Increased tool life because of proof turning.
No cost or environmental impact due to sand.
Permanent molds are reusable and ultimately recycled.
---
The Permanent Mold Process
As its name implies, the permanent mold casting method makes use of reusable metal molds in place of the sand-base molds used in conventional foundries. The molds are made from steel and the cavity surface is coated with a thin layer of heat resistant material and release agent. There is NO sand involved in the process. Molten metal is carefully poured into the open cavity of the mold where it is allowed to cool to temperature before being removed from the mold.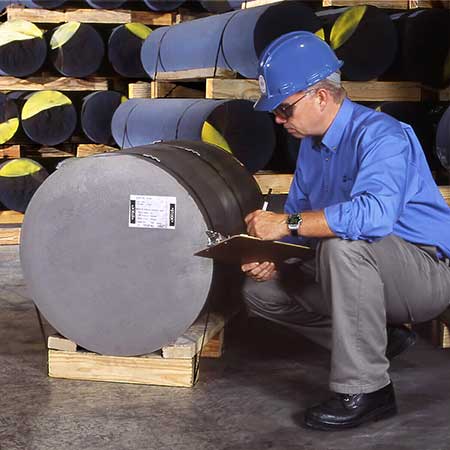 The molds are considered "permanent" because they can be used multiple times before being replaced. This reuse lowers the cost of the product over other methods requiring a pattern expense for each pour.
The permanent mold casting method is clean and environmentally friendly. It produces very little waste and almost no fumes. In the case of the Dura-Bar XL ingots, there is no scrap or excess metal. All turnings produced during the proof turn are remelted. Most importantly, because there is no sand in the process, it avoids all of the contamination and product defect problems common to sand castings and traditional foundries.
Dura-Bar XL Ingots vs. Dura-Bar Continuous Cast Iron Bars
From a performance standpoint, there is no difference. If the application was a success with Dura-Bar continuous cast, it will be with Dura-Bar XL. It can be used as an alternative to steel bar and forgings, just like our continuous cast bar.
Dura-Bar XL is poured from the same quality prepared metal as our continuous cast G2 and 65-45-12. Chemical, mechanical and microstructure results will be the same as Dura-Bar continuous cast for comparable sizes.
All Dura-Bar XL is sold in a turned condition so there is no as-cast surface. In addition, the length of the ingots is determined by the mold size, so they are not available in continuous cast bar lengths.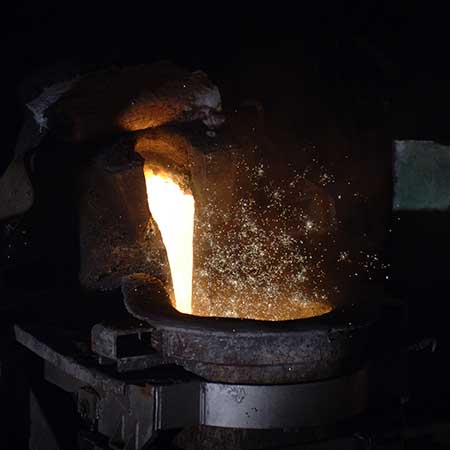 Different cooling rates between the processes will result in the microstructure transition from rim to center being more gradual in the ingot. While the actual amount of variation in the microstructure from rim to core is still the same in both processes, there may be a slightly finer grain structure with the Dura-Bar XL.
Certification for Dura-Bar XL is available in the normal Dura-Bar format and each ingot is tagged for traceability. Certification is the same as with the continuous cast material with one small difference. When a continuous cast bar is made, several wafers are cut for hardness testing throughout each run. The range of those samples is then recorded on the certification.
With Dura-Bar XL, only one hardness sample is taken from each ingot. In both cases, we report hardness values at the edge, mid-radius and center of the sample.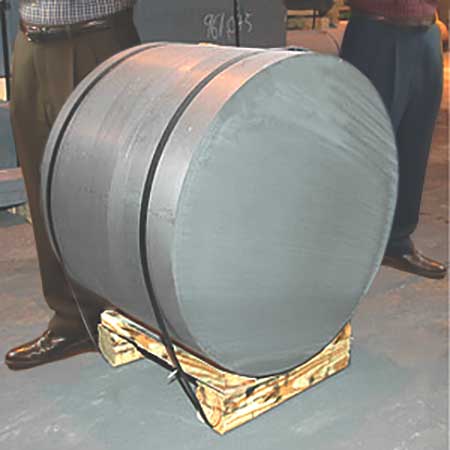 Dura-Bar XL is ideal for applications in the pattern and mold industry as well as large equipment manufacture and repair. Use it as a steel, casting or forging alternative just like our continuous cast bar stock.