Dura-Bar: Alternative To Steel
Overview
Dura-Bar is an ideal alternative for many steel applications, particularly for carbon steel grades such as 1010, 1018, 1040, 1045, 1141, 1144, 1212, 1214, 1215, 1218, and 12L14. Depending on the application, even some grades of alloy bar are an excellent fit for Dura-Bar.
Many companies are putting Dura-Bar to work in place of traditional steel grades. They are discovering the benefits of continuous cast ductile iron from Dura-Bar. Usually the switch is made because Dura-Bar lowers the cost to produce their part. However, they also realize Dura-Bar doesn't have other issues that plague the steel market, like spot shortages, allocations and fluctuating prices.
Dura-Bar's consistent material performance, distribution network and commitment to customers are unmatched in the industry.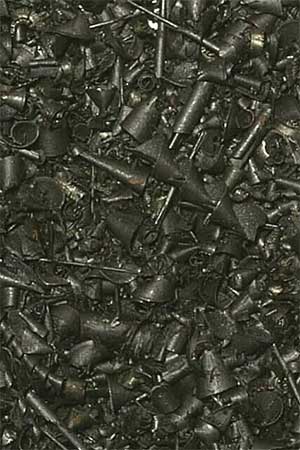 Dura-Bar Chips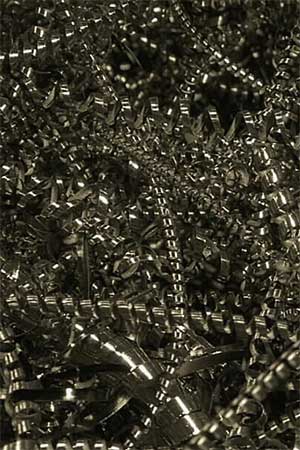 Steel Chips
The following chart depicts how the material properties of Dura-Bar 65-45-12 and 80-55-06 ductile iron compare to those of a few common grades of steel.
Material Property Comparison
Material Property
Ductile Iron
Hot Rolled Steel
65-45-12
SSDI
80-55-06
1018
AISI 1045 JSI 45C
1117
1144
12L14
Tensile Strength (psi)
65,000
75,000
80,000
58,000
81,900
58,900
102,000
57,300
Yeild Strength (psi)
45,000
55,000
55,000
31,900
45,000
31,900
60,900
34,100
Elongation (% in 2")
12
15
6
25
16
25
21
22
Hardness - Average (BHN)
180
198
229
116
163
116
212
121
Shear Strength (psi)
54,000
-
72,000
33,060
46,680
33,060
58,140
32,660
Compressive Strength (psi)
110,000
59,200
115,000
58,000
81,900
58,000
102,000
57,300
Browse example applications and additional advantages below, or request a Steel Alternative Kit—the kit (available as a .pdf via e-mail or packet via snailmail) addresses machinability, heat treating, applications and more.
Example Application: Pulley
Steel's Problems
Leaded material requires coolant disposal costs
Poor surface finish
Poor wear resistance
Solutions and Benefits
Lead-free Dura-Bar
Superior surface finish
Excellent grooving and drilling
Extended tool life
Lower shipping cost due to lighter weight of Dura-Bar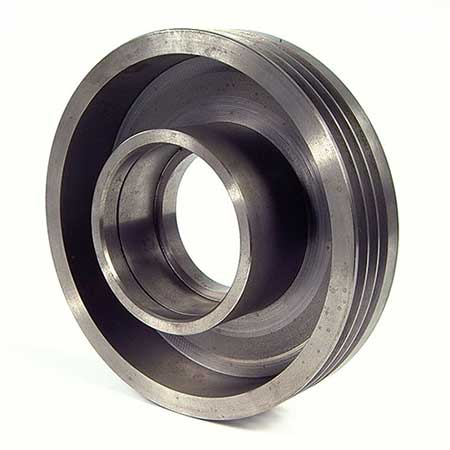 Applications
Following are examples of parts which originated as steel, but now made from Dura-Bar have gained significant cost-saving and performance benefits.

Dura-Bar provided a more machinable material with the needed pressure retention of the application originally manufactured in 1018 steel. The machining cycle time was cut in half and time changing inserts was also reduced.

Dura-Bar 65-45-12 properties and superior quality resulted in reduced machining cycle times, lowered tooling costs and improved balance over steel.