Compressor Rotor Case Study
| Industry | Dura-Bar Grade | Original Material | Problems Solved |
| --- | --- | --- | --- |
| Pump and Compressor | 65-45-12 Ductile Iron | 1045 Carbon Steel | Machining Cycle Time, Cost Reduction, Weight Reduction |
A manufacturer of parts for portable power air compression needed a solution to problems including high scrap rates and proper balancing of their compressor rotor.
Dura-Bar 65-45-12 free machining properties resulted in reduced machining cycle times and lowered tooling costs. Superior quality material eliminated the high scrap rates, with Dura-Bar's Zero Defect Guarantee instilling confidence. The consistent material properties of ductile iron also improved balancing over steel.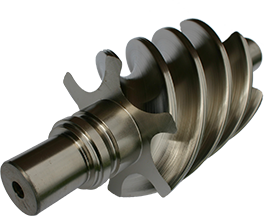 Contact us today to discuss your application and what cost saving benefits you can realize by using Dura-Bar.